Home Insulation Company Serving Greater Richmond
Contact Us For
A Free Estimate
Privacy Statement: Your information will be kept confidential and will not be shared with any third parties.
Greater Richmond's 1st Choice for Home Insulation
BPI Certified Experts
We properly install the right insulation, every time!
Learn more about our patented SuperAttic(TM) Insulation System
We insulate homes using only the best material & quality
You may wonder why insulation is so important when living in such a warm climate as Central Virginia. The answer is simple -- air flow. Insulation is basically a thermal barrier to protect air from entering and escaping your home, so on those hot summer days, good insulation will keep your expensive conditioned air inside.
Poorly installed or damaged insulation greatly diminishes the insulation's integrity; which, could lead to continuous high demands on your heating and cooling systems. Your conditioned air is almost useless to have turned on if your installed insulation can't keep the heat outside and your conditioned air inside.
Read All About
Home Insulation
in your FREE book when you schedule a Free Estimate »
Benefits of Increasing Home Insulation:
Improved home comfort year-round
Increased savings – less demand on heating and cooling systems
Reduced noise and moisture levels
Eco-friendly - saving non-renewable resources
Improved indoor air-quality
We help homeowners everyday, live more comfortable and affordable lives, by upgrading the right insulation in the right areas of the home. Dr. Energy Saver is your trusted neighborhood home insulation company in Richmond, Henrico, Midlothian, Glen Allen, Mechanicsville, Tuckahoe, Chesterfield, Bon Air, Ashland, Chester, and areas nearby. Also check out our home energy audit to diagnose your home's energy problems. Insulation may not be the only energy problem within your home.
Dr. Energy Saver properly installs insulation for maximum benefits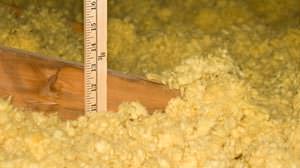 Thickness counts. Your home will experience the most benefits if your attic is lined with the highest available R-value insulation along with the proper level of installed insulation.
The more R-value, the better. The measurement of insulation's resistance to heat flow is known as R-value. There are many different insulation materials available in the market-place, all of which have a unique measurement (R-value) that differentiate them from one another. Fiberglass batt insulation, for example, has an R-value of about R-3.6 per inch while rigid foam insulation can range from about R-4 to R-7 per inch. For an insulation material to achieve it's desired high R-value it is recommended by the U.S. Department of Energy to install larger amounts or thicker layers of the material in some cases.
Proper installation makes a difference. For any type of insulation to obtain it's maximum R-level, it must be installed properly. This includes air sealing packages and proper technique. The thermal resistance (R-value performance) of insulation drops significantly when insulation is moist, compressed or installed with gaps or "voids".
Contact us today for a Free Estimate on insulation repairs, replacements and or installments for homeowners living in Central Virginia. Our company saves you and your family money with our home insulation services in Richmond and throughout Greater Richmond to slow the flow of heat.
As a full-service insulation contractor in Central Virginia, we:
Inspect and assess existing home insulation
Install new insulation in all areas selected by the homeowner
Recommend specific insulation upgrades to improve energy efficiency
Provide Free Estimates for all recommended work
Contact Us For A FREE Insulation Estimate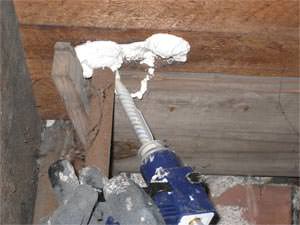 Spray foam cracks and gaps. If your home has any gaps or leaks around wiring or plumbing lines, conditioned air from the living space can escape through any of these holes leaking to unwanted areas of the home. Dr. Energy Saver uses spray foam to seal and insulate these openings.
Insulation and air-sealing go together. A very important and affordable energy-saving step that should be done along with any home insulation upgrade is air-sealing. By properly air sealing leaks in the "building envelope", conditioned air has less of a change to escape from the living space. With leaks and gaps in the "building envelope" heat can move by convection through most types of insulation, nullifying its home energy-saving value.
Before installing new or additional insulation it's extremely important to air seal leaks. This is especially important before installing attic insulation in Central Virginia, a poorly sealed attic can lead to costly electrical bills. Often times existing insulation needs to be shifted or removed in order to uncover attic air leaks.
Our home energy audit, engineered and operated by the professionals of Dr. Energy Saver, can include a blower door test to discover where air and heat are leaking within the house and even the attic.
Dr. Energy Saver uses some of the most cutting edge products and materials on the market place including sealants, caps to fit over can lights, and different types of spray foam. We make sure to offer you the best performing products while alleviating your home from any possible air leakage!
The "best" insulation depends on installation requirements. Certain types of insulation perform better than others in a given application because of handling, installation and performance characteristics. Our contractors have the experience and ability to recommend and install the right insulation properly for the application. Insulation costs vary, that's why we aim for cost-effective, top performing insulation.
Dr. Energy Saver provides expert home insulation installation services to improve attic insulation, crawl space and basement insulation, garage insulation and wall insulation all throughout Greater Richmond. Contact us today, to schedule a free home insulation estimate, so that we can appropriately address and improve the environment of your home.
Home insulation experts serving homeowners throughout Central Virginia
Most homes are either improperly insulated or have damaged insulation. Your costly electric bill may be a result of inadequate insulation. Call Dr. Energy Saver today to schedule a Free Estimate for home insulation in Midlothian, Henrico, Richmond, Chesterfield, Glen Allen, Mechanicsville, Chester, Bon Air, Ashland, Tuckahoe, East Highland Park, Moseley, Lakeside, Highand Springs, Montrose, Bensley, Dumbarton, and surrounding Central Virginia areas!
Looking for a price? Get a no cost, no obligation free estimate.